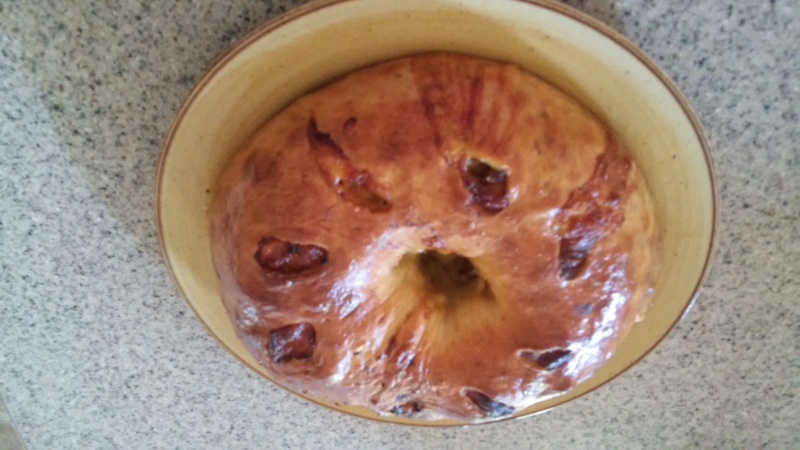 sorry, i dont know why that pic is upside down lol
2 large bell peppers, seeded
2 roasted red peppers, seeded, peeled
1 poblano pepper, roasted, seeded and peeeled
1/2 cup pickled banana peppers, more if you like them
1 tsp black pepper, more or less to taste
1 large onion, peeled
1 Tbl olive oil
1/2 tsp salt, more or less to taste
1 tsp dried oregano (or 1 tbl fresh chopped fine)
Bread dough, make your own, or thaw frozen dough over night, let rise and punch down twice
2 cups or more (yeah, more is better) of any cheese you like, try mozzerella, cheddar, dollops of ricotta, goat cheese, but you want something moist and melty. Use a combination of cheeses if you want to.
1 egg and a little milk or water, whisked, for egg wash (optional)
Chop all peppers and onion to roughly the same size, about 1/2 inch. Saute bell pepper and onion, salt, black pepper and oregano in olive oil a few minutes until barely soft. You want the to still have some texture. If you use jarred roasted red peppers packed in oil, use that instead of olive oil.
Toss in roasted red pepper, poblano, and pickled banana peppers, put everything in colander and let drain and cool.
After bread dough has risen twice, punch down and roll out very thin, about 1/4 inch, into a large rectangle. Spread cheese and pepper mixture over entire rectangle. Roll dough same way you would make a jelly roll, seal open long edge, place on cookie sheet seam side down and form roll into a large ring, connecting and pinching together ends. With sharp knife, make slits on top for steam to escape, get creative and make a pattern if you like. Brush with egg wash mixture.
Bake at 400 degrees until bread is golden, bottom is cooked, and connected ends aren't too doughy. Hard to say how long, more than 20 minutes, less than an hour.
Variations: if you have more vegetables, or want to add any, go for it! Cook with what you like and what you have. Get creative. I recommend you pre-cook any veg, otherwise they will make dough too wet. You can also add to the above pepper mixture crumbled hot italian sausage, steak, grilled chicken, even white beans. Whatever you want, food is always good when you cook with what you like.
*please note, I don't use recipes, and amounts may be off, I just add what looks good and taste as I go. Add more or less of anything you want, you cant really screw this up.